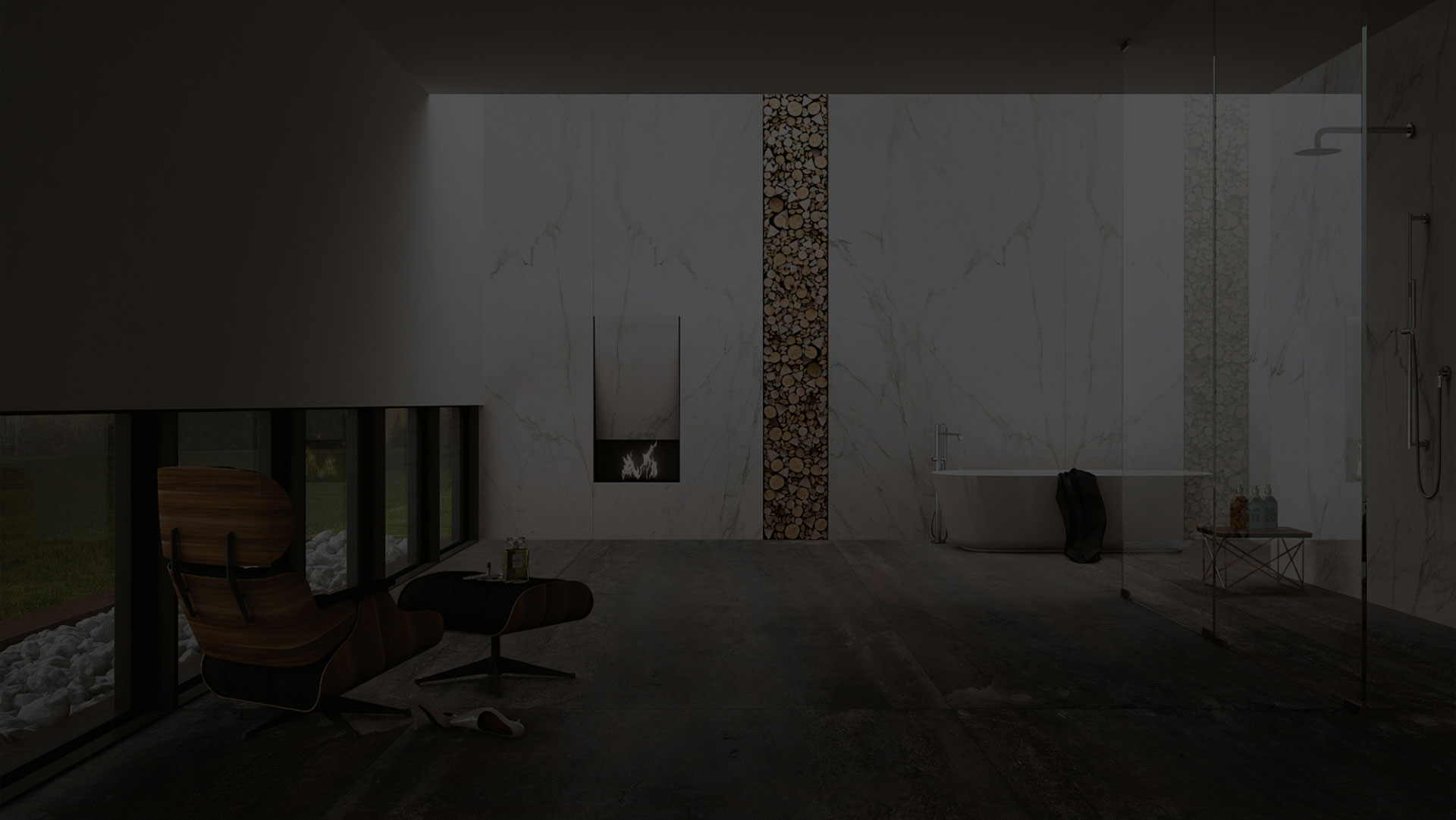 Gres Porcelain
What are the characteristics and advantages of compact-body ceramic slabs? The history of this material has very ancient origins and is characterized by various theories that tell the reason for the conception of porcelain stoneware
The term ceramic comes from the ancient Greek word Kéramos, which literally means clay, the inorganic material that, while it is malleable in its natural state, becomes rigid and stable after it is baked.

Ceramic is subdivided into two main categories:
• compact paste, which includes gres and porcelain;
• porous paste, which includes pottery, majolica, terracotta
The history closest to the truth is that describing a search for a new covering material that could be both beautiful and strong. Today it is the most widely used type of cladding for walls and surfaces in both private and professional environments.
Why is it one of the most widely used materials in the modern building industry?
Why is it so sought-after and valued? Above all, what is gres porcelain?
Gres porcelain a ceramic with a compact, hard, colored and non-porous body. It is a special ceramic that is obtained by pressing a select mixture of clay, kaolin, sand, feldspar and ground colored pigments. This process results in a mixture of slightly refractory lean clay that is baked in a kiln at very high temperatures between 1200 and 1400 C°. The state reached at this point by the material is called sintering.
The structure thus obtained is incredibly compact while the material, in addition to being extremely functional, is able to meet the highest requirements and technical performance.
PORCELAIN STONEWARE SLABS
Easy maintenance
The procedure for treating a porcelain stoneware flooring consists of: washing after laying, protection, maintenance. Gres porcelain needs routine maintenance: normal house cleaning to remove dirt, cancel footprints and reinforce the protective coating.
Extraordinary maintenance is only necessary in special cases: when the flooring is very old, damaged or if the surface has lost its original beauty in case of mistaken maintenance.
It is very simple to clean, does not become impregnated with odors and does not absorb liquids.
Scratch resistant
Porcelain stoneware resists scratching as measured by a scale, the hardness or Mohs scale, which is one of the most important characteristics of the material. The extremely compact ceramic structure guarantees the material will be scratchproof and has great strength even for normal wear and tear caused by foot traffic or daily use.
Waterproof material
Porcelain stoneware is a ceramic with an extremely compact structure. This gives it two important qualities: exceptional strength and such a low porosity that it is impermeable to water, acids and dirt. UNI technical standards define this material as having a water absorption coefficient lower than 0.5%.
Acid resistant
The vitrified structure with a low degree of porosity, characteristic of the material guarantees a very low absorption. Porcelain stoneware also resists the most common acids such as vinegar, lemon juice, coca cola and hydrochloric acid, which leave no traces even after prolonged contact with the surface.
Impact resistant
Porcelain stoneware is a hard-paste ceramic material that comes from a mixture of pure materials.
This material is highly resistant to wear and tear coming from impact or from foot traffic and does not scratch even when struck by a hard body. This is why it is perfectly suitable not only for interiors but also for use outdoors where it resists freezing, bad weather and scratches.
Heat resistant
Porcelain stoneware is insensitive to sudden changes in temperature and does not freeze thanks to its practically zero porosity. This material is perfectly suitable to be laid outdoors, even in bad weather conditions, or indoors in contact with stoves and hot pots. And, finally, in case of fire it will neither burn nor produce toxic gases or fumes.
Contact us
Are you an industry specialist and want more information on ceramic slabs? Write to us and request more information about our ceramic product or our company reality.