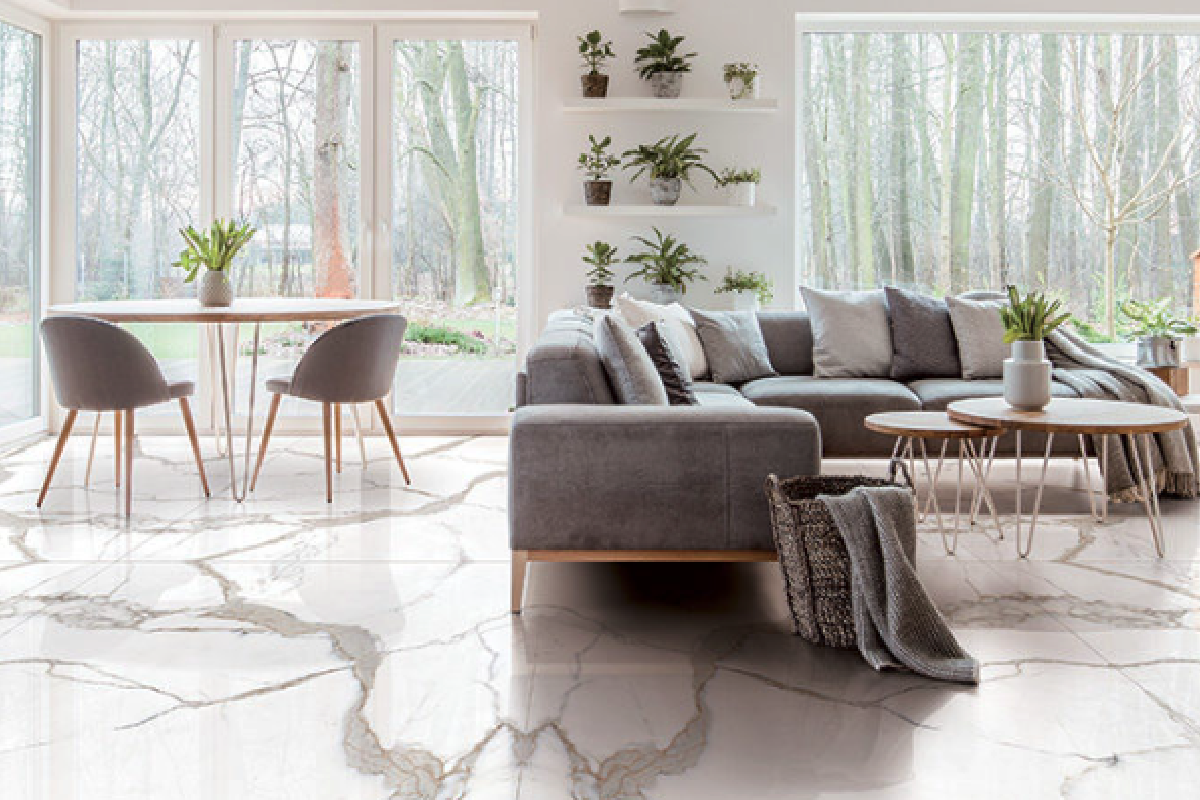 21 July 2022 - 4 minutes of reading
Gres Porcelain and its perfect characteristics for refined interior design
Many people dream and strive to decorate their own professional or private interiors, creating modern designs with an elegant finish.
The problem is to find a material that is uniquely effective in improving the well-being and safety of the people who live in these spaces while still maintaining the highest esthetic and technical values.
The latest interior design rules, recommendations and guidelines focus on the right solutions when designing floorings and coverings without, however, overlooking the importance of creating spaces that are beautiful to live in, esthetically harmonious and in line with the latest needs of daily life.
What is the best solution for satisfying these different but equally important requirements? What material offers all these characteristics?
What is the material that features great versatility, user-friendliness, strength, hygiene and, at the same time, perfectly reproduces a variety of elegant and modern patterns and textures?
Gres Porcelain, thanks to its characteristic perfect combination of efficiency and design, is the first choice to ensure a high-impact esthetic result both for floorings and for any form of covering.
Gres porcelain slabs are widely used in many different situations. Here, according to interior designers, are the advantages.
Interior design: the advantages of gres porcelain slabs
This material, thanks to its intrinsic characteristics that are the reasons behind its incredible success, is one of the most widely used both in the building industry and interior decoration.
Although at the start it was almost exclusively used for its high technical performance, important developments have come from technological progress in the ceramics production industry.
Today the advantages of gres porcelain are praised by interior designers. It is a material used to make perfect spaces for daily living, both at home and at work.
It perfectly weds any style with its unique technical qualities: gres porcelain features diverse characteristics that come from the quality of the materials used to make it, the manufacturing process and its great compactness.
Let's look at the main advantages and properties of this material.
Paving rooms of different sizes is no problem because gres is a material that adapts to various sizes.
Do you need technical efficiency? Gres porcelain features surprising strength and sustainability.
The slabs can be laid without gaps, making it possible to design homogeneous surfaces without interruptions, enlarging the perceived spatial dimensions.
Abrasions are no longer a problem: gres resists wear and tear from contact, and consequently resists foot traffic, scratches, blows by heavy bodies.
Easy to wash: the low degree of porosity of its structure guarantees a very low absorption rate (UNI EN 176 ISO BI standards define as "porcelain" those ceramics which have a water absorption coefficient lower than 0.5%). The impermeability and tightness of this material also make it unchanging over time and highly stain resistant.
Porosity, which is practically non-existent, prevents proliferation of bacteria and makes this material perfect for kitchen countertops, bathroom coverings or entryway floorings.
Gres is insensitive to abrupt temperature variations, does not freeze and, in case of a fire, neither burns nor generates toxic smoke or gases. It is therefore an excellent solution even for outdoor use.
The materials that compose gres porcelain are natural. Thanks to its characteristics it does not require chemical waterproofing, varnishes or resins which could make it harmful. It does not emit radon nor other noxious gases nor does it emit toxic gases when in contact with sources of heat (such as fire, hot pans or stoves).
Gres porcelain offers an exclusive solution for every interior
Over the years there have been increasing esthetic proposals thanks to growing approval and increasing demand, now offering the highest possible level of customization of coverings and decoration of living spaces using gres porcelain.
Epic Surface Gres Porcelain slabs are the solution for those who desire refined and luxurious bathrooms, or a dining room that gives off brightness, elegance and movement or a kitchen that perfectly embodies a combination of esthetics and efficiency.
Discover all the colors of Epic Surface gres porcelain slabs. Achieve an eclectic fusion style made of international materials, colors and geometric shapes, minimal appearance, industrial structure, contemporary interior, classic elegance … for interiors that combine elements, lights and colors to create timeless spaces!