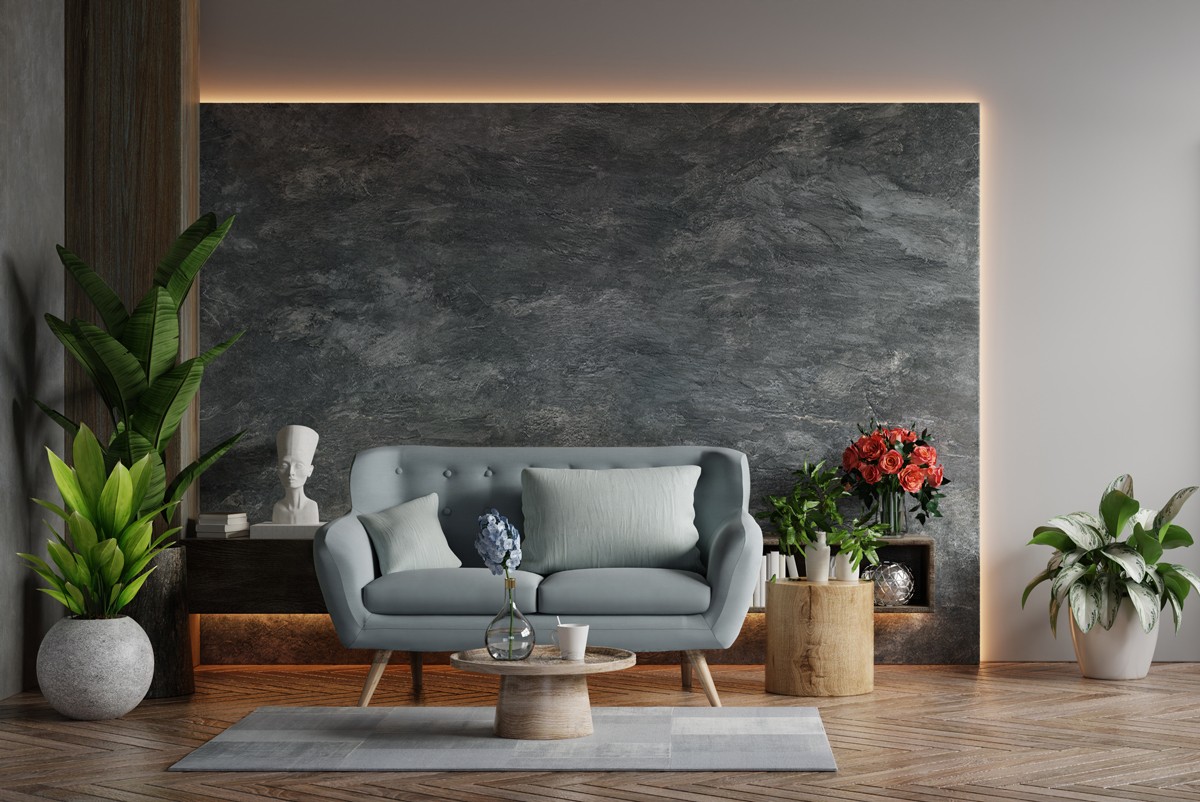 12 January 2023 - 6 minutes of reading
2023 interior design trends: 5 trends for the upcoming months
With the end of 2022 we began to draw conclusions about the interior design world. Already in the last months of the past year we could get a peek at what would be the highly rated trends for 2023 in the interior design world.
Here we are now, at the start of the new year, ready to list what will really be the concepts, approaches, styles and materials that will be the main players and most used during the months to come.
The 5 décor trends that will feature 2023 and accompany us during the entire year continue with a mood that was created and cultivated during the difficult past years and which focuses more on making the home the most comfortable place possible and custom-made.
Living the home to the fullest, from every point of view, down to the smallest detail, both in elegance and in comfort, will be the mantra that accompanies us in upcoming months. All 2023 design projects will thus match the main goal of creating everyday spaces filled with comfort and exclusivity.


These will be the three main themes of 2023 interior design trends: increasing green, animated discussions on minimalism and elimination of borders. Let's look at them in detail.
Natural materials
But meeting one's own needs is not the only goal that most of the public has set for themselves: respect for the environment and use of organic materials remain a must for interior design.

Organic materials, such as wood, stone and ceramics, will continue to be widely used in 2023 thanks to the welcoming and warm sensation they give off and will be the perfect choice for the requirements of the new year.

In particular, gres porcelain is made exclusively of natural raw materials without plastics and harmful substances. It is a hygienic and healthy material that does not contain toxic organic substances (such as volatile organic compounds, formaldehyde, PVC or other petroleum by-products).

Contact with plastic-free materials will remain strong and lively in 2023 both to improve the conditions of family well-being and health and because these natural materials help relieve stress, positively influencing our mood and improving creative abilities. Gres porcelain, especially, is a safe, environmentally sustainable material: it does not contain plastic and can be totally recycled.

Biophilic design is one of the trends that is having increasing success, leading to an improvement in the quality of life inside environments (and beyond).
Biophilic design
Biophilic design is a
"… design strategy that takes into account the spontaneous tendency of humans to feel good in the midst of nature. It is not hard to imagine why: our primitive brain is made to function best when it is in a certain type of habitat."
Work Cited
Massoni, Elisa. "Oliver Heath: vi spiego cos'è il biophilic design." Interni Magazine, 26 October 2021,
https://www.internimagazine.it/approfondimenti/interviste/oliver-heath-biophilic-design/. Accessed 10 January 2023.
The etymology of the word embodies the completeness and intensity of the new project: "love for life" is the key to biophilic design. This new frontier of green design aims to reorganize, but also to revolutionize, spaces while maintaining its focus on the psycho-physical well-being of the person who lives there.
Ultimately, this design approach aims at recreating a strong and balanced link between urban spaces and natural spaces, creating environments that are greener and more vital.

Natural elements, botanical themes, lively colors, plants… these will feature this new trend.

These two first trends speak of a return to nature and the natural world, focusing on bringing wellness and serenity back to home. Ceramics is one of the most popular materials, whether with unfinished or high-gloss finishes. It will be, together with stone, one of the leading materials for the 2023 "Nature" trend.
A return to the seventies
Furniture, lights and colors will see a revival of the taste of the nineteen seventies.
Homes, interiors, offices… will be full of reflections, plays of light but also of furnishings with geometric design and mirrors.

The preference will go to high-gloss surfaces and coverings (discover all our colors with high-gloss finish), reflecting surfaces, steel materials. Concrete-effect coverings, practically waterproof, will be highly appreciated; our Black Slate, Cosmopolitan and Planet Moon colors, in their light or dark tones, are perfect for achieving the utmost esthetic result and meeting functional requirements.

The minimal style for spaces
Minimal style is much discussed: for some this 2023 will be featured by the now widespread minimal style for others, on the contrary, there will be anti-minimal innovations.

Some trends in décor are intended to remain in vogue for a long time and many believe that this will be true for Minimal style in 2023. "Less is more" will still be part of our vocabulary for 2023: "Minimalism", since it entered into our language in the nineteen sixties, coming from the art world, has become a faithful companion for many aspects of our daily life.

This artistic current aims to understand reality in a simpler way, freeing itself of all that is not essential. Minimal style for interior design points, in the same way, to simplicity, purity and functionality.
Taking up the mantra of living the home to the fullest, especially after the difficult lockdown period, has got many to modify their spaces, designing them as functional as possible, able to bring different comforts together, meeting the requirements of work. This, often, means reducing distractions to a minimum to make room for practical conveniences.

This leads to the minimal style taste and furniture that have captured the hearts of many in the last two years and that remain fundamental even during 2023. Interior activities will focus on reducing elements, keeping only those that are essentially useful but without forgetting to give an attentive glance at the design experience. This new year will also see the need to create welcoming atmospheres where we feel at ease, with a negligible number of elements and furnishings but able to combine a wealth of values and personalities.

On the contrary, according to another research by Catawiki with Ipsos, one of the primary trends to be seen is the anti-minimal movement with 74 million views on TikTok. This new trend mixes materials and furniture in a basically kitsch way, even in the homes of Italians. According to this research 18% of those interviewed intend to support this trend and give free rein to creativity.

The only thing to do is to see, during the year, whether "simplicity of elements" and "ordered disorder" will conquer the hearts of the public and secure a place in the home.

Indoor and outdoor continuity
Eliminating borders between home interiors and exteriors is increasingly desired: this interest has kept high, after an initial peak, with exponential growth and will not be less in 2023.

Exploiting spaces while eliminating borders between indoor and outdoor, is a trend that is widespread throughout the world. In particular, in Italy where it goes hand in hand with a mild climate that can be enjoyed almost all year round.

Outdoor and indoor blend in a continuous dialogue, merging their functions and almost eliminating distinctions such as home, veranda, porch, terrace, garden…

Gres porcelain is a material that, thanks to its innumerable functions, makes continuity between outdoor and indoor perfectly possible and balanced.

Innovative and exclusive colors combine with resistance to scratches, impermeability of the material, resistance to impacts and to heat to make our gres porcelain slabs the perfect choice for creating elegant, creative, multi-functional and dynamic indoor and outdoor spaces.