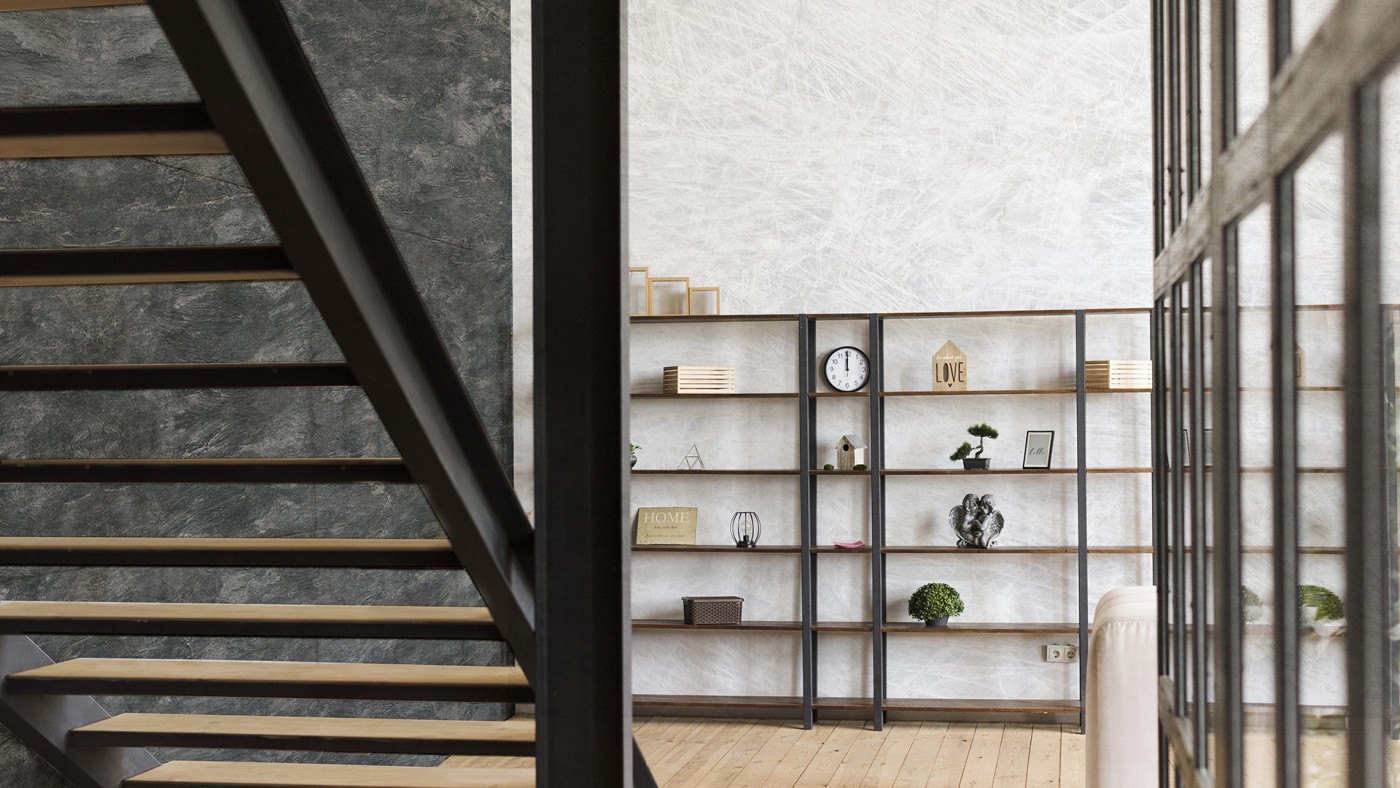 16 March 2023 - 4 minutes of reading
Why choose gres porcelain for your exterior and interior design projects?
Gres porcelain history
As we saw in the article What is gres porcelain? this material has very ancient origins dating back, to be specific, to prehistoric times. It was created when man discovered that dried clay had better mechanical performance, coming to create the term terracotta.
Over the years there have been countless improvements and discoveries regarding this material. One of the most important turning point took place in the 3rd century B.C. when terracotta tiles started being decorated with pigmented vitreous paints, leading to creation of the first glazed ceramic coverings.
What we have is a ceramic with a compact and hard structure, colored but not porous, made by pressing finely ground materials, compacted and baked at very high temperatures.
The structure obtained from this process results in a compact and waterproof material, widely recognized as being highly functional and with high-level technical performance.
At the same time, thanks to its esthetics and versatility, it is held to be a design material, able to fit every setting, whether indoor or outdoor. Our wide collection of colors accentuates this basic aesthetic ability, offering a wide range of choices suited to every need and stylistic requirement.
The cutting-edge technologies that we study, update and use, help us combine our taste for ancient ceramic processing with technological innovation.
Why are gres porcelain coverings the leaders in the world of design?
For many years now, the world of interior and exterior architecture and the spaces for decoration and design have found, in gres porcelain, one of their main players.
One of the main reasons behind this success is the wide range of color possibilities: gres achieves the most faithful reproduction of natural materials, such as marble and granite, showing the nuances, shades and characteristic signs of the natural material.
This great aesthetic capacity makes this material highly versatile in its use, both for private and public projects, for indoor and outdoor spaces.
Gres porcelain, whether covering surfaces, floors or walls or making kitchen countertops, doors, counters and tables, up to including bathroom furnishings and headboards, enhances spaces and represents, above and beyond its original function, an effective and elegant aesthetic choice.
Why are gres porcelain coverings used indoors and outdoors?
Gres porcelain floorings, coverings and surfaces offer highly sought-after technical solutions, suitable for any use and space, residential or commercial, indoor or outdoor.
It fits many situations because it is a compact and hard ceramic, colored and not porous. It is made by pressing a selected mixture of finely-ground clay, kaolin, sand, feldspar and colored pigments which is then baked in a kiln at very high temperatures, ranging between 1200-1400 C°.
At this point the material reaches a state where the granules are welded together, called vitrification.
"A phenomenon that precedes fusion when baking ceramic products and which consists of welding together the granules with a great increase in mechanical strength and impermeability. The vitrification point is the minimum temperature at which this phenomenon takes place."
The structure that is formed is incredibly compact, functional and able to meet the extreme technical performance required, becoming an excellent choice in many projects of architecture and interior décor with unique elements of style and design.
All the advantages of gres porcelain
There are mainly seven advantages for those who use gres porcelain:
1. Easy to maintain
2. Scratch-resistant
3. Waterproof material
4. Acid-resistant
5. Impact-resistant
6. Heat-resistant
6. Durability
This material, in addition to being practically eternal, faithfully reproducing the textures, nuances and colors of natural materials, resists external agents, acids, scratches, sudden changes in temperature and impacts.
What are the drawbacks of gres porcelain?
There are, however, a few drawbacks in using gres. Its components may ruin it in spite of its compact structure and characteristics.
Although there are few the drawbacks of gres are:
poor acoustic insulation
poor thermal conductivity
What, on the other hand, can ruin gres porcelain? Performance of gres porcelain coverings can be impaired due to:
incorrect or lack of cleaning
use of abrasive cloths or sponges
choice of a poor quality gres porcelain
But even as we list the negative aspects of gres porcelain coverings, we can see that its main lackings are due to use of poor quality raw material and to improper installation and maintenance.
Discover our offering of high quality gres porcelain with its excellent technical performance and countless stylistic qualities.