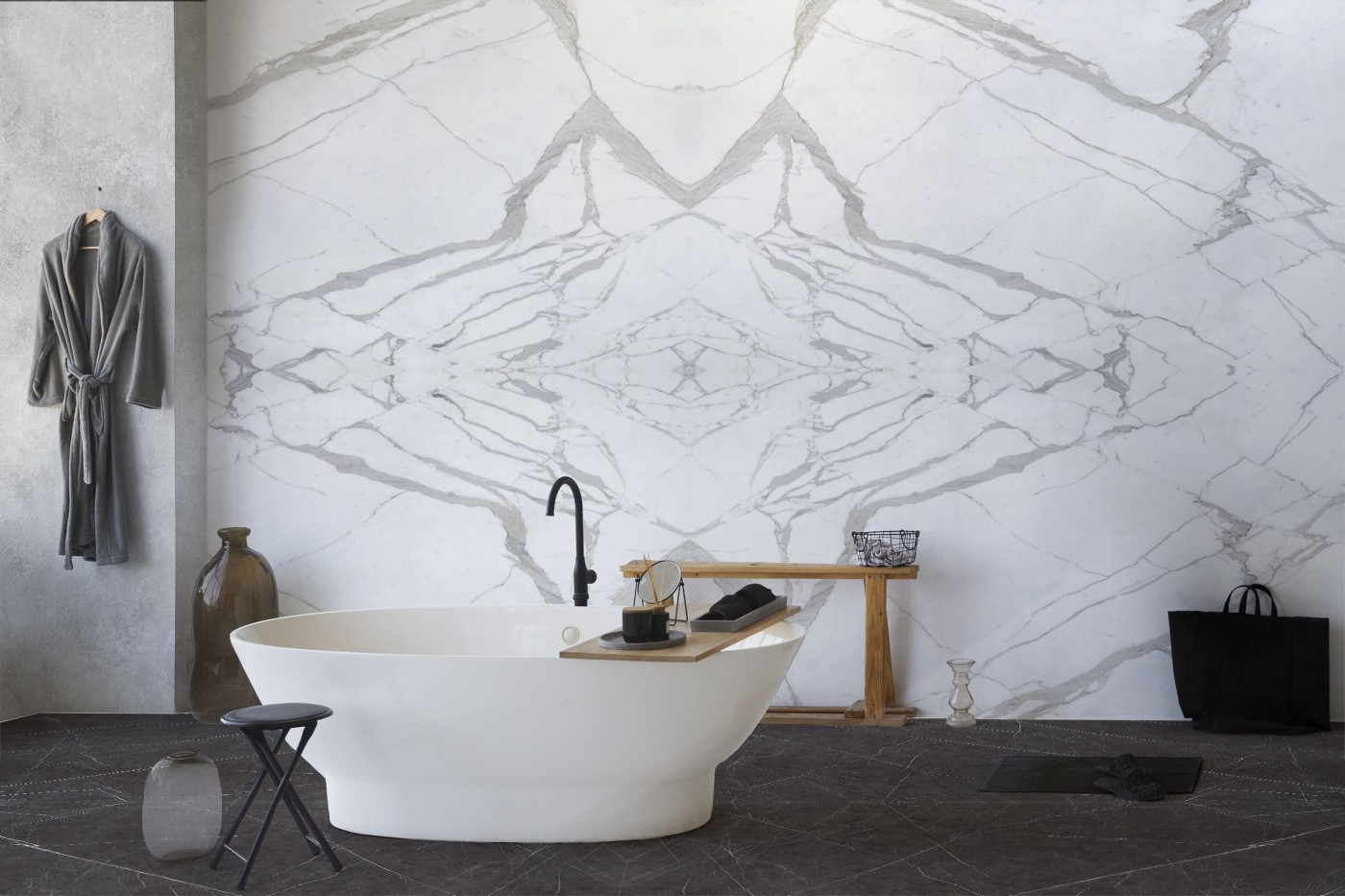 17 October 2023 - 5 minutes of reading
5 original ideas for the Stoneware bathroom
Stoneware as a solution for floor and wall tiles in the bathroom space is not only visually appealing, but also beneficial to health.

While the cladding must be able to efficiently resist moisture, water and condensation, it is equally important not to neglect the design factor.

Stoneware is a material that allows the imagination to take flight: the wide range of colors and textures of this particular ceramic work are varied and diverse.

All existing shades find the correct way to express themselves, adapting harmoniously to the aesthetic preferences or design needs of various works and renovations in the home.
As often happens, the wide and varied range of possibilities can make it difficult to come to a decision. So, let's take a look at six of the most popular options for floor and wall cladding for an original, harmonious and functional bathroom.
1 Calacatta-effect stoneware: between classic and modern
For lovers of the classic white marble effect, the large-format Calacatta-style slabs retain their natural warmth and historical details.

As you can see from the photo, the eye's attention is immediately caught by the design of the veining. The surfaces covered with this porcelain stoneware create a balanced atmosphere in perfect continuity, thanks to the dialogue between the background and the wide veins that cross it.

Combining with other materials, such as wood or iron, can be the perfect choice to achieve a cozy environment that is always respectful of daily necessities.

2 Statuario-effect stoneware: a precious and elegant bathroom
The large-format stoneware slabs of the Statuario-effect color recall the marble style but, unlike the previous option, exhibit precise and unique characteristics.

While the color taken from Calacatta marble has creamier background tones, the reference to Statuario marble offers an ice-white texture.

The decisive but more sober strokes on the shades of gray dialogue harmoniously with the brightness of the background. The contrast creates a perfect design for those looking for the elegance of classic simplicity, with a touch of luxury and refinement.

As can be seen in this environment, the walls and floors in the same type of stoneware lend the bathroom space visual continuity. In addition to floors and walls, stoneware tiles can be used as cladding for bathroom cabinet tops or furnishing elements.
3 Monochrome porcelain stoneware: a minimal and modern effect
The modern style has a cyclical charm. Furnishing a modern bathroom with porcelain stoneware floors and coatings in a minimalist style is, in fact, always a popular choice, so much so that it has cycled back into major trends.

Among the most engaging and practical color solutions are adaptable neutral colors, such as black, white and more or less intense combinations of the same. The most suitable tonalities are, therefore, soft or monochromatic, capable of respecting the typical dictates of the minimalist style. Among the modern bathroom examples, as seen in the photo, we have chosen the colors Crystal White and Planet Moon.

As shown in the photos, these slabs are perfect for a bathroom with a modern design: they are very versatile and allow you to express your creativity with unique decorations.

Bathroom fittings can also be clad: behind the sink or behind the fixtures, shower walls or countertops can be made functional and stylish. In fact, our stoneware slabs are not only used for cladding floors or walls, but also to embellish and complete furnishing elements.
4 A stone effect for a natural bath
Natural yet sophisticated, the stone-effect bathroom is among the most popular interior design possibilities available today. The return to natural textures, solid colors and layered hues has increasingly seen widespread feelings of affirmation and appreciation. These tones create an environment full of contrasts and genuine style.

Stone tones for claddings in living spaces, such as the bathroom and kitchen, meet the demands of naturalism and efficiency, typical of these environments.

Sugar Black, Doret, Glacier and Blanche offer natural light: they are the colors that best evoke the movements and effects of natural stone.
5 Industrial-style bathroom and concrete-effect stoneware
You can choose different types of textures to achieve an industrial-style bathroom: as seen in the photo, for us, the colors Black Slate and Cosmopolitan are the perfect match.

Large concrete-effect stoneware slabs are great for both an aesthetically interesting bathroom in perfect industrial style and practical for reducing joints to a minimum.

In fact, concrete-effect porcelain stoneware on walls and floors gives the room a versatile, metropolitan look that is typical of urban style.
We suggest giving preference to shades in gray palettes and planning the overall design by working on the continuity between the floor and other surfaces. In this style, it is important to make the most of the homogeneous, immediately impactful effect of these shades.
Why choose stoneware for bathroom surfaces?
Choosing stoneware for bathroom surfaces means opting for resistant and easy-to-clean claddings (that do not require maintenance) with non-chip, waterproof material.

Using stoneware for a modern bathroom is therefore a very practical choice, but at the same time, an elegant and stylish one.

This compact paste ceramic offers numerous advantages:
Durability
Easy maintenance
A variety of designs
Resistance to water
Elegance
Sustainability
Versatility
Resistance to scratches and wear
A seamless design
Compatibility with underfloor heating
Conclusions
As we have seen, the possibilities offered by stoneware surfaces are truly varied and satisfy the desire to create the bathroom of your dreams: from the most classic tone to modern, but also natural or urban style.

Subscribe to our newsletter and download the complete catalog of our stoneware range; assess the perfect textures for your environments, to combine practicality and good design!