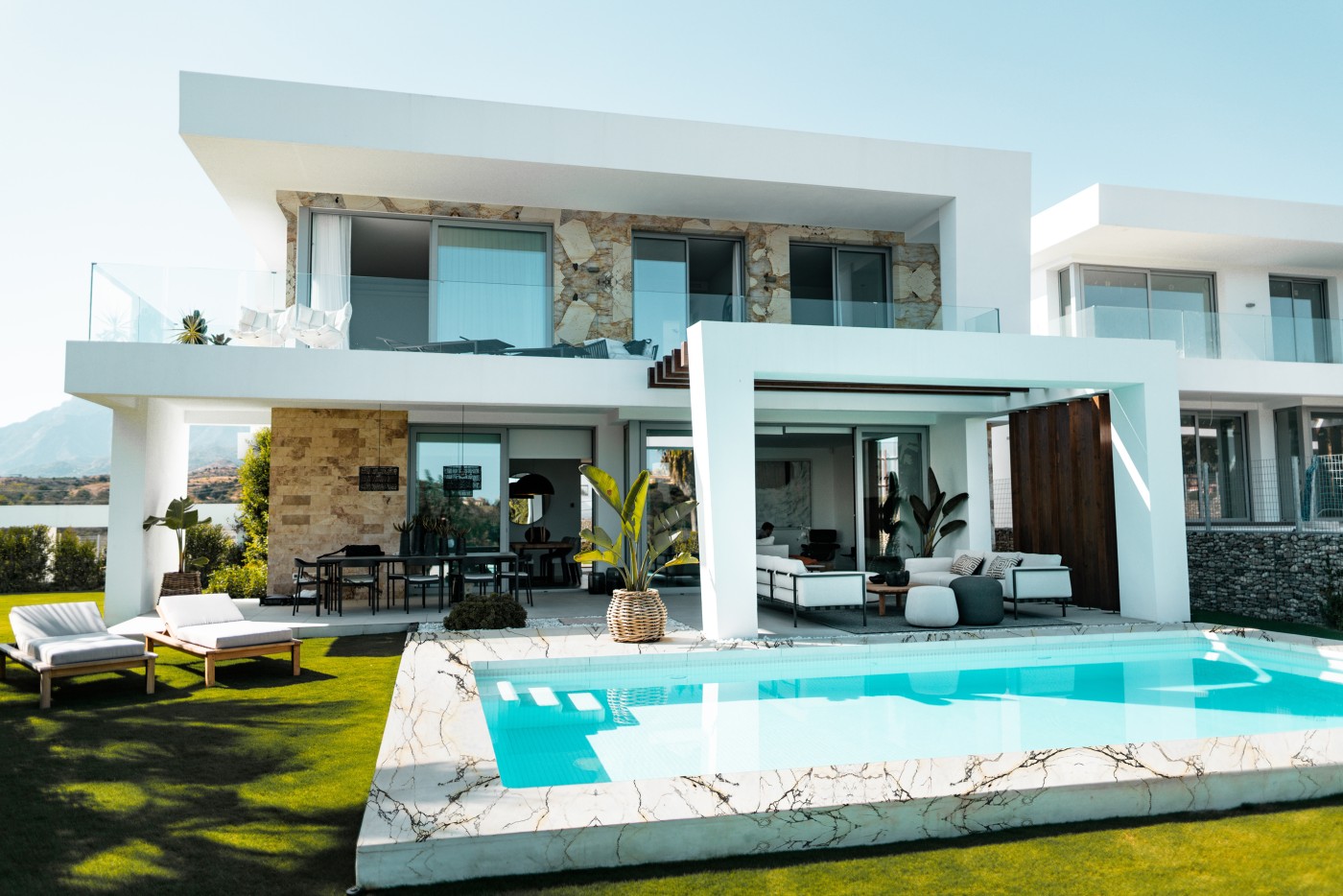 19 June 2023 - 3 minutes of reading
3 ideas for your seaside home in gres porcelain
Summer is nearby and our thoughts move further away from work engagements and towards happier thoughts of light-heartedness, relaxation and fun.
It is finally time to reopen your seaside home and take advantage of the start of summer, bringing a few changes and renovations according to the latest interior design trends.
There are several options for furnishing your seaside home and making it welcoming and exclusive: here are a few ideas and some hints from which to take inspiration for furnishing the rooms of your seaside home with gres porcelain.
Gres porcelain slabs, thanks to the great versatility of this material, are the best choice for covering the surfaces of your summer home. The result will be a delicate environment, able to bring out the perceptions and sensations of light-heartedness and tranquility typical of summer.
These characteristics of quality, comfort and strength are fundamental in every project. But they become absolutely essential in a seaside home: gres does not fear sand and salt and you can enjoy summer relaxation without worrying about frequent cleaning or special maintenance.
Why choose gres porcelain for your seaside home?
There are many advantages and great potential for using gres in a seaside home, from an expressive but also from a practical point of view.
The combination of technical performance and exclusive design is the key for making unique and comfortable environments. It is also the core business of our Epic Surface firm.
Our range of esthetic potential is based on faithful reproduction of the most popular natural materials: we offer a wide variety of colors and textures (download our catalogue to discover them all), excellent for moving freely between ideas for interior design or for surface covering.
Colors, finishes and inclusions taken from the most exclusive and precious materials give our gres slabs a wealth of advantages that are not limited to esthetics but continue to convince in technical efficiency and durability.
Our technology is at the cutting edge; we use only premium quality ceramics. Our slabs, waterproof and non-slip, ensure unparalleled technical performance.
Gres porcelain resists aging, wear, sudden changes in temperature, weather, natural elements such as sand and salt. These features are indispensable for being able to enjoy a seaside home without worries of any kind.
The added value of our large format tiles to furnish a seaside home comes in the synergy between technical performance and the many chromatic and design possibilities.
3 ideas for your seaside home in gres porcelain
With gres porcelain it is easy to achieve the most classic designs for a seaside home, such as white surfaces or those that recall marble, but also even more surprising ones full of colors and movements.
Gres provides an almost infinite variety of material effects, colors and patterns: the choice is difficult but here we can see 3 gres colors that speak of the main trends for a seaside home.
The first esthetic elements that come to our collective imagination when we think about the tranquility of a summer residence are: the luminosity of white walls, natural tones and warm and colored surfaces.
Pure white gres: a classic, always versatile and elegant. Our Super White is a timeless color that lights up every environment with pure elegance and puts no limits on creativity.
Gres with natural effect: our Paonazzo color, with legendary chromatic charisma, is an impressive texture that weaves back and forth between various tones. Daring black veins and the purity of white are contaminated by delicate shades of natural color.
Gres with warm tones: the "golden" color of copper emerges from our Doret texture with surprising tones, large spots, bolt contrasts and rich and sinuous shades.
Conclusions
These are just a few of the possible scenarios for a seaside home using gres porcelain for floors, coverings and furnishings.
Every texture creates a unique and different effect, revealing an unexpected choice but always of great character for an environment that stands for a home away from home, detached from the usual canon and that speaks of light-heartedness and relaxation.