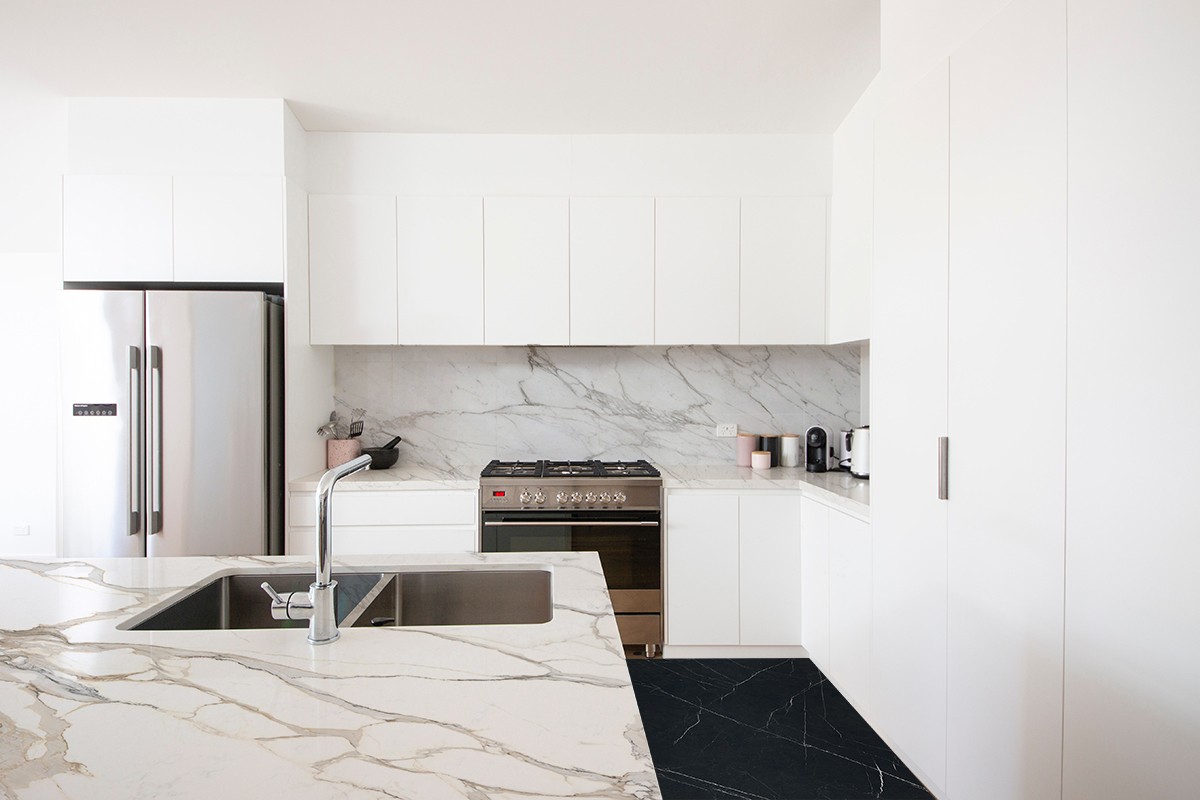 16 September 2022 - 3 minutes of reading
Why choose gres porcelain kitchen countertops for refined projects?
The kitchen is the heart of the home
Kitchens evoke a mysterious magnetic appeal: family members, acquaintances and friends increasingly congregate in this special part of the home. Kitchens were first designed merely for preparing and cooking food. But especially in recent years kitchens have slowly changed into being the heart of the home.
It is the hub of daily life, conversations and decisions but also a place for team meetings, for having fun and playing games with friends and, even more in the last year, an office and computer work area.
So, every situation needs to conceive and create kitchen spaces in a totally personal, subjective way that suits all these specific needs and requirements.
The result, given these many functions, is that there are no perfect worktops for kitchens. We can, however, make a list of characteristics that no one can forego.
There are, when all is considered, three fundamental features that kitchen countertops must have:
They must be beautiful
They must be strong to everything
They must be quick and easy to clean
Those looking for a more modern and demanding design and those who prefer traditional and more classic solutions find that gres porcelain is the material that meets all their requirements. But why …
The characteristics of gres porcelain
Gres porcelain has many intrinsic characteristics that make it the perfect solution for home or office interior and exterior coverings.
It mainly distinguishes itself from other materials thanks to its durability, compact composition, resistance to abrasion and chemicals.
Gres is indeed one of the most cutting-edge materials today on the market: in the specific case of kitchen countertops, for example, even when hot pots are placed on it neither its enduring colors nor features will change.
Gres porcelain kitchen countertops
Gres gives a unique and attractive look to your kitchen, preferred by those who want this home area to be a versatile space, a place to meet and a backdrop for many activities.
Gres porcelain kitchen countertops are made with a mixture of natural materials, pressed and baked in over 1200 degree kilns. High temperature baking is what makes this material resistant to scratches, blows, acids and strong changes in temperature.
Gres porcelain worktops are made out of multiple slabs of ceramic material placed side by side. This process and the care during laying, create visual continuity and makes any joints invisible.
A special feature of the kitchen ceramic covering is that there are no limits to use gres porcelain kitchen countertops. In fact, they create the desire to experiment with the material and use it to its maximum capacities.
Gres kitchen countertops are good for every type of culinary experiment. They do not change or break in case of blows or stains.
From the functional standpoint gres is not damaged by moisture, water or heat. All the colors, even the most delicate of whites or the darkest of blacks, remain intense as in the beginning. It is also an environmentally friendly material that can be recycled.
Our material is extremely elegant in all its different textures and proposed applications. It is also perfect for tables and island kitchens and at the same time is so practical and strong that it will surpass all your expectations.
To conclude
Why choose a gres kitchen countertop?
This is an excellent material for designing kitchens meeting all requirements. Does not alter with age. Resists changing temperatures, pressures, scratches. And thanks to its composition and to how it is laid it is lacking in joints and offers perfect hygiene, ease of cleaning and total waterproofing.
Epic Surface gres porcelain combines esthetics and functionality: our large slabs come in a single big 3,200 x 1,600 mm format and 12 mm thickness. Our many color proposals come in two different finishes: natural and high-gloss.
The design solutions we offer go beyond simple kitchen countertops. They are perfect for indoor and outdoor use, horizontal or vertical, for kitchen countertops, washbasins, bathrooms, doors and furnishings to make the interior you desire, totally customized in style and without any compromises.