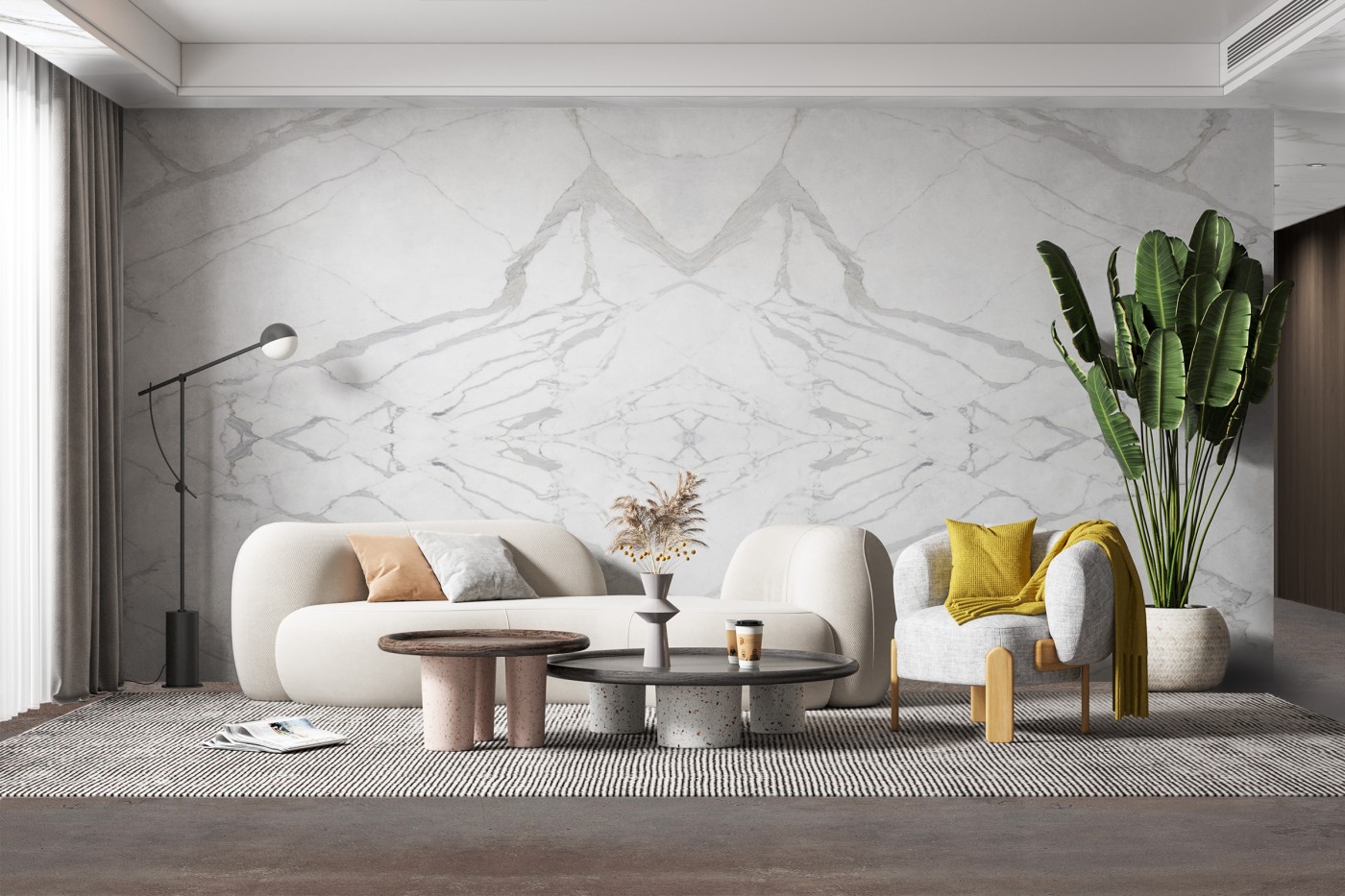 13 October 2022 - 4 minutes of reading
Decorating your home with gres: a complete guide from floorings to countertops
Gres porcelain provides your home with cosy and performing rooms: smart and practical, attractive and adaptable over time: so that you can find every day a customized and exciting environment.
Through an accurate study of details, the use of colors and combinations, through to lighting, furnishings and coverings of walls and floorings, you can build a home suited to your mood that will make you feel comfortable.
For both larger and smaller rooms, be they indoor or outdoor, as well as for floorings, countertops and furnishing items gres porcelain always turns out to be the best choice.
Right for meeting all requirements, it allows you to create intimate living spaces: gres is excellent for both new home buyers and those who, after a few years, change their perspective and wish to rediscover the feeling of a truly personal, safe and family haven.
In this guide, you will see, paragraph after paragraph, without neglecting any setting, how to optimize the use of gres porcelain slabs to design a home where you can regenerate yourself, feel new emotions and fully enjoy the personality and taste created by your choice.

Decorating your home with gres: flooring
Choosing the type of home flooring is a delicate and, at the same time, an exciting task: there are so many solutions and alternatives, but it is important to make the right, informed and well-thought choice.
It is important to consider how it will be used and remember that a floor is one of the most impacting features when you walk into a house. As it covers a large area, it has a great bearing on the overall look of the rooms of the house.
The best possible advice is to choose floorings that can create a feeling of warmth and amenity as well as a relaxing and comfortable ambience throughout the house.
Nothing achieves this result better than gres porcelain. Shown in the next pages are some examples of floorings with our gres porcelain slabs.

Decorating your home with ceramic: bathroom

Gres Porcelain is a true star also when used as bathroom covering: the intrinsic features of this material fully meet all requirements of this section of the house. Its resistance to chemicals, waterproofing and antibacterial features make it ideal for any bathroom.
Moreover, in a room where the use of furniture is kept to a minimum, covering is the main element that provides refined beauty and design. It is a fact that gres is no longer just used for tiles and coverings, but nowadays is also a choice for other decorating elements of the bathroom, like washbasins and shower trays.
Here are some examples of how to decorate your bathroom with Epic Surface gres porcelain: the elegance of our textures are an essential complement to create a smart and immaculate room.
Decorating your home with gres porcelain: kitchen
Decorating your home with gres is an increasingly popular choice in view of this material's high performance and beauty.
As a result, it turns out to be an excellent solution also for kitchen countertops (read more in our article dedicated to Why choose a gres kitchen countertop): easy to clean and maintain, resistant to heat shocks, gres porcelain is also ideal for this section of the house where knives, acidic materials and boiling pots and pans are not always handled with due care.
From an aesthetic point of view, ceramic kitchen coverings are an added value to what has become the most popular and used part of the house. From breakfast to dinner, as well as for work, study and family meetings, a kitchen must be able to meet a range of requirements. Gres is the best choice for meeting all of them.
Decorating your home with gres: coverings
The new frontier for the design of coverings is customization aimed at creating originality and uniqueness to every setting.
Decorating your home with gres porcelain allows you to meet even the most demanding specific requirements of any individual design project.
How can you decorate your home with gres?

As you have seen, gres porcelain is clearly a material that boasts unique features and nowadays is the best option when choosing materials to design and decorate your home.
Kitchen countertops, shower trays, floorings, coverings… are only some of the elements that you can decorate with this material.
For your favorite place, in other words your home, choose Epic Surface gres porcelain slabs. An exciting and ever adaptable element that can boost creativity and inventiveness by letting loose your imagination and allowing you to come up with extraordinary creations.
Discover all our colors that originate from the interpretation of natural stones: granites, quartzites, marbles and onyxes.