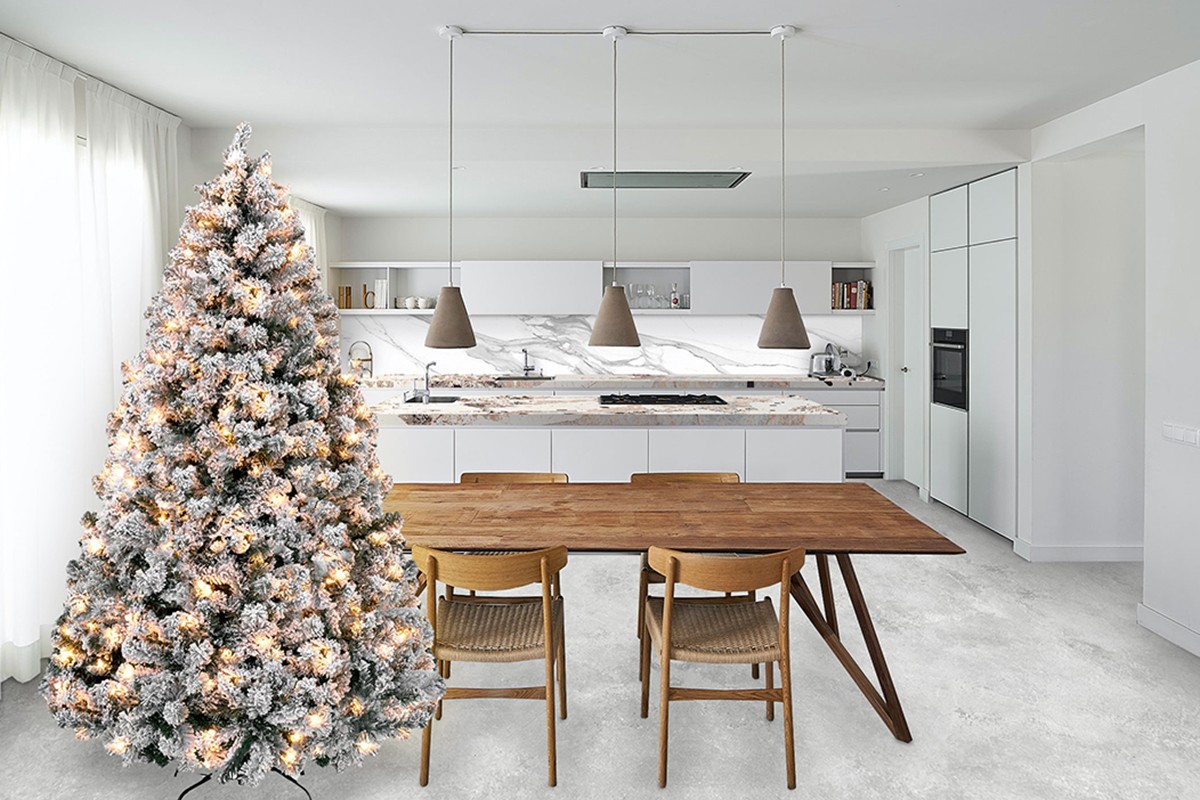 15 December 2022 - 4 minutes of reading
Decorate your home for the holidays
The most magical time of the year is coming: cities, offices and homes are evermore adorned with Christmas lights and decorations, creating suggestive and emotional atmospheres with increasingly special scenes.
Interior design, decors and decorations are, indeed, very popular words this period of the year. Now, interior and exterior decoration has become a real art with scenes set up specifically for the holidays.
Living rooms, bedrooms and kitchens are embellished with great care and harmony, without overlooking interplays of lights and colors between coverings, floorings and ornaments.
Decorations, and not only during Christmas holidays but also on all special occasions, must perfectly match with the rest of the home. This article shows trending 2022 Christmas trees and colors and all the advantages of gres coverings during these holidays.

Gres porcelain under the Christmas Tree is ideal
The Christmas Tree is a must-have decoration during the Christmas holidays. And although its lights, balls and candles make everything even more magical, the base of the tree and its decorations could damage walls and floors.
Gres porcelain proves to be the best choice from this standpoint: it resists scratching, blows and heat and lets you spend your festivities with friends and family with serenity and without worry.
The Doret texture, with its surprising tones, large spots, decided contrasts and rich and sinuous shades, recreates the Christmas mood, conveying warmth and welcome.
Every year we dedicate time and energy to choosing Christmas Decorations and the Christmas Tree in particular. But can we really be sure that the type we choose, and above all the color of our decorations, is the one that best fits in with the interior furnishings of our home?
Matching the Christmas Tree with flooring, choosing warm, cool-tone or colored lights based on the ceramic coverings, are niceties that help make our holiday atmosphere even more special.
Gres porcelain, which is a strong and easy-to-clean material, is indeed perfect to decorate and adorn your homes during the holidays and to maintain, for a long time, a touch of exclusive charm to your favorite rooms without being afraid of leaving hard-to-clean stains left during Christmas Eve's Dinner or to have surfaces damaged by shoes during New Year's Eve and New Year's Day!

Gres floorings with dark textures
If the room where you put your Christmas Tree has a dark flooring, such as for example Stone Noir or Pietra Grey we recommend, to create an elegant effect, to decorate the tree with white tones and decorations with nuances of gold and platinum.
The contrast created by the striking difference between colors will highlight Christmas decorations, giving an extra touch of care to the interior.
Floorings in light gres
Light-colored flooring, such as marble-effect gres porcelain like Calacatta, Super White or Staturario, may make selecting a classic Christmas tree an interesting solution, with its green color and a few white shades hinting at snow.
Decorations will be perfect in blue, red or pink to enhance the neutral tones, of white and beige of the flooring.
Gold and silver are also elegant and exclusive solutions, but above all are in exceptional harmony both with hot and cold-colored flooring.
Gres porcelain is a perfect support for parcels, gifts and Christmas handicraft
During these Christmas holidays we dedicate care and attention to making parcels that best present our Christmas gifts, giving room for creativity for handicraft creations. Both these activities risk leaving glue, cutter scratches, pieces of scotch tape or hot wax on surfaces.
It is not surprising, during holidays, to find walls and floors covered with glitters and adhesives. Here, too, gres porcelain is the perfect material because it is easy to clean, even just using hot water, quickly removing all residues.
Decorations on gres porcelain walls as well are easy to make but also to remove. The material unleashes our creativity with guaranteed sturdiness and the utmost ease in cleaning.

Now is the time, if you haven't already done so, to decorate and embellish your home, office and daily living spaces with happy and festive objects and decorations, without being afraid of ruining coverings. It is indeed possible to use Christmas decorations on all gres porcelain surfaces in your home or business without damaging them at all.
Unleash your creativity without worry. Indulge yourself with Christmas Decorations… the final result will certainly be of great impact!