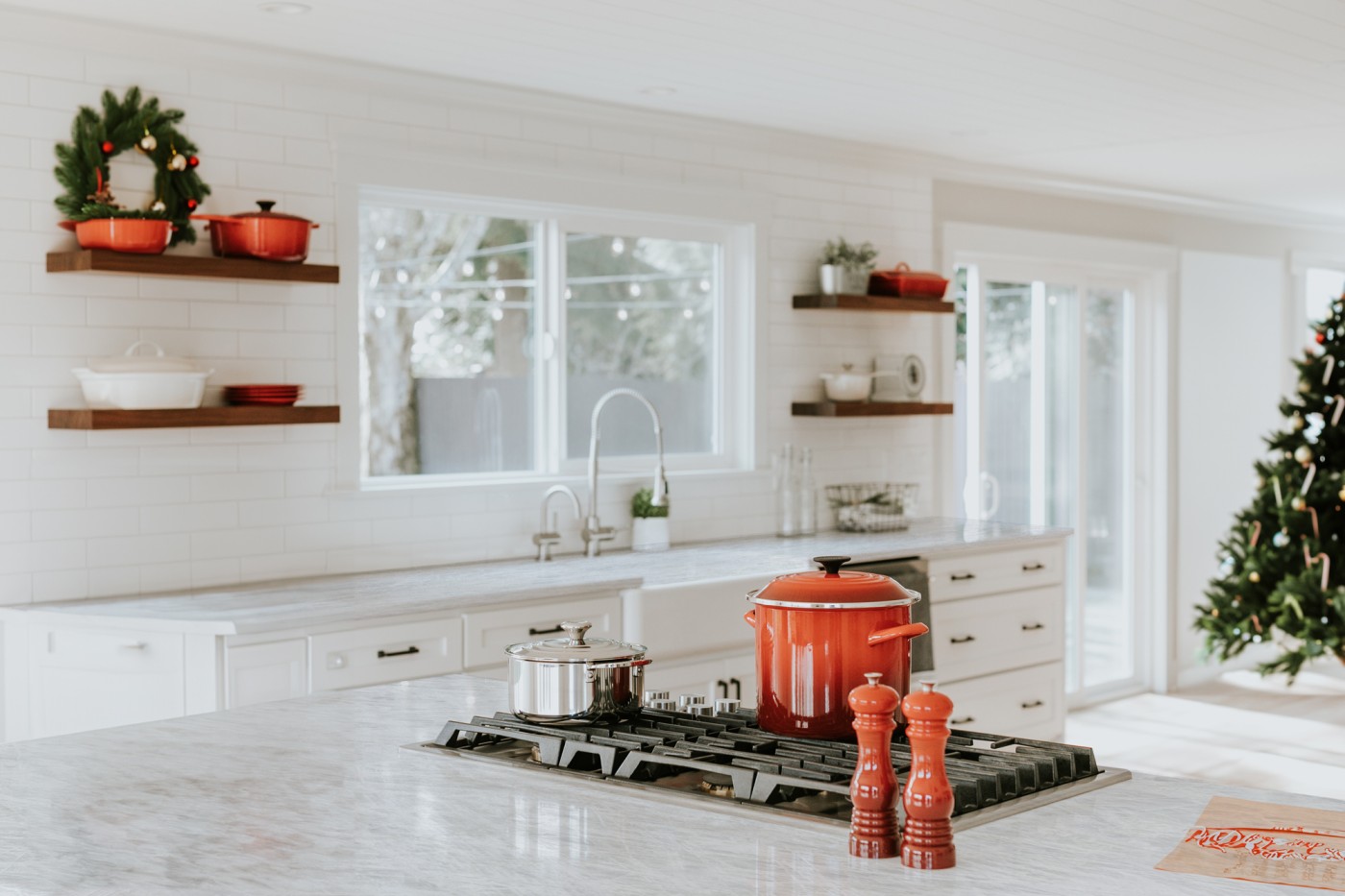 15 November 2023 - 6 minutes of reading
5 ideas for decorating your kitchen island for Christmas
With Christmas just around the corner, it's time to think about how to stage your spaces and what decorations are best suited for decorating your home.

To create a proper holiday mood that is first and foremost warm and cozy, it is important to be familiar with and play up the various options available. Of all the areas within every home, there is a prime location, a place that is as special as it is convivial where cherished moments are shared, most especially during the holidays.
The kitchen is an area not only for cooking and eating meals but also a place to gather, a potential work or study area, an area for relaxation...

It's the central heart of a home, the center stage for get-togethers with friends and family, particularly during the holiday season.

Given that each kitchen is structurally unique and custom-made,

how can we turn our kitchens into the perfect holiday space?
Here are some ideas and tips to show off your creativity and spread Christmas cheer throughout your home, starting with the kitchen.
Kitchen Christmas decor and decorations
There are several different types of kitchen islands, but all of them become the undisputed focal point of the room.

The magic of Christmas is conveyed through every single detail. In a decorated kitchen — whether it has an island, a peninsula, or a horseshoe layout — cooking becomes more than just a simple daily activity.

In this festive atmosphere, preparing food becomes a unique experience, a ritual that celebrates the warmth of the holidays and the joy of sharing special moments.
Christmas decor for U-shaped kitchens with center islands
Surrounded by functionality, in a horseshoe or U-shaped kitchen with a central island it's important that the central decorations complement those placed on the lateral edges.

A festive atmosphere at the table can be created through a variety of elements: dishes and glasses can be artfully arranged on the island, complemented by Christmas-themed charger plates and coasters. Another alternative is to use red fabric or felt cutlery holders with sets of plates, cutlery, and glasses that are specifically decorated for holiday celebrations.

Windows should be festooned with richly patterned curtains that echo those of the kitchen island, preferably made of lightweight fabrics. Gently filtering the light, glass surfaces and reflections are transformed into Christmas tableaux that give the entire kitchen a magical, enchanted aura.

In addition to the window drapery, you can also play around with a wide variety of window decals. Depicting Santa Claus, Christmas trees, snowflakes...these themed stickers transform glass surfaces into canvases ready to be filled with your creative inspiration.

Decorations engraved on serving pieces or placed in the corners of a room provide a sophisticated festive touch, transforming even the simplest meal into a special experience.

Christmas decor for L-shaped kitchens with center islands
The L-shaped kitchen with a central island is the perfect setting for parties thanks to the connecting elements that interact and complement each other.

Lights, garlands, holly, and dangling mistletoe decorate the lamps hanging from the ceiling, creating an array of colors, reflections, and movement that is magical and festive.
The central island is illuminated by both the surrounding elements placed on the L-shaped kitchen as well as the elements hanging above. A lighting system comprising spotlights, LEDs, lamps, and small string lights is perfect for directing attention toward this special corner of the house.

Garlands and wreaths help create an evocative atmosphere, in addition to being decorative elements for the front door. With a bit of creativity, you can create unique, stylish garlands to hang above the center island.

The mixture of hues, lights, and creativity sets the perfect stage for all holiday activities.

Decorations for kitchens with a center island
Modern kitchens with a central island require large open spaces that connect the living area with the kitchen. With such ample space available, you can surely create the perfect setting for your Christmas tree, the indisputable icon of the Christmas season.

In a linear kitchen with a central island, the tree's strategic positioning significantly enhances its presence, allowing its shimmer to be appreciated throughout the open space. Its effect is even more striking if the tree is placed near a window, framed by the wintry panorama and bathed in natural light.

The tree's twinkling ornaments and string lights reflect off the countertop, shining off plates and glasses, creating an endlessly shifting multisensory experience.

Decorations for kitchen islands with cooktops or sinks
Kitchen islands with cooktops or sinks blend aesthetics with versatility, mixing interior design choices with convenience during meal preparation. It becomes the starting point of a Christmas story that's created together: cooking, preparing, and sharing every moment with guests and friends.

Whether for preparing dishes or just starting small talk, kitchen islands with cooktops and sinks allow you to fully immerse yourself in the Christmas atmosphere.
Christmas-themed potholders, tea towels, and stovetop covers are practical, useful accessories that also become an opportunity to add a festive touch to everyday tasks.
To top it all off, red, plaid, or white tablecloths and placemats with Christmas motifs create a perfectly coordinated environment.

This space creates a symphony of colors in which every thoughtfully placed element contributes to the holiday celebrations.
Decorations for kitchens with a peninsula
For modern and corner kitchens with a peninsula, decorating the cooking area with candles and scented oils allows you to create a warm and cozy space.

Soothing aromas such as vanilla, cinnamon, spices, citrus, mint, and rum turn into true decor elements, perfect for making your home a cozy haven during the holidays.

Candles and essential oils lend a touch of refinement in addition to giving off their enchanting scent. Drying slices of citrus or heating water with apples, cinnamon sticks, and cloves are excellent methods both for decorating and for spreading a delicious Christmas fragrance throughout your home.

There are many benefits of a kitchen with a peninsula during the holidays, but choosing the perfect composition of these elements makes it a key feature. Artfully positioned in the center of the peninsula, these home fragrance diffusers create a mesmerizing immersive effect and, above all, an all-round sensory experience.
Conclusions
The combination of functionality and style turns every detail into a special moment during the holidays. Having a kitchen with a porcelain stoneware island makes this combination even more advantageous.

In addition to the aesthetic advantage of minimizing joints, the already ultra-hygienic surface is extremely easy to clean between preparations. The fact that it is extremely durable and safe means you don't have to worry about burning candles and the pot of boiling water on the stove.

For a modern kitchen with an island, browse our online catalog or contact us for more information!